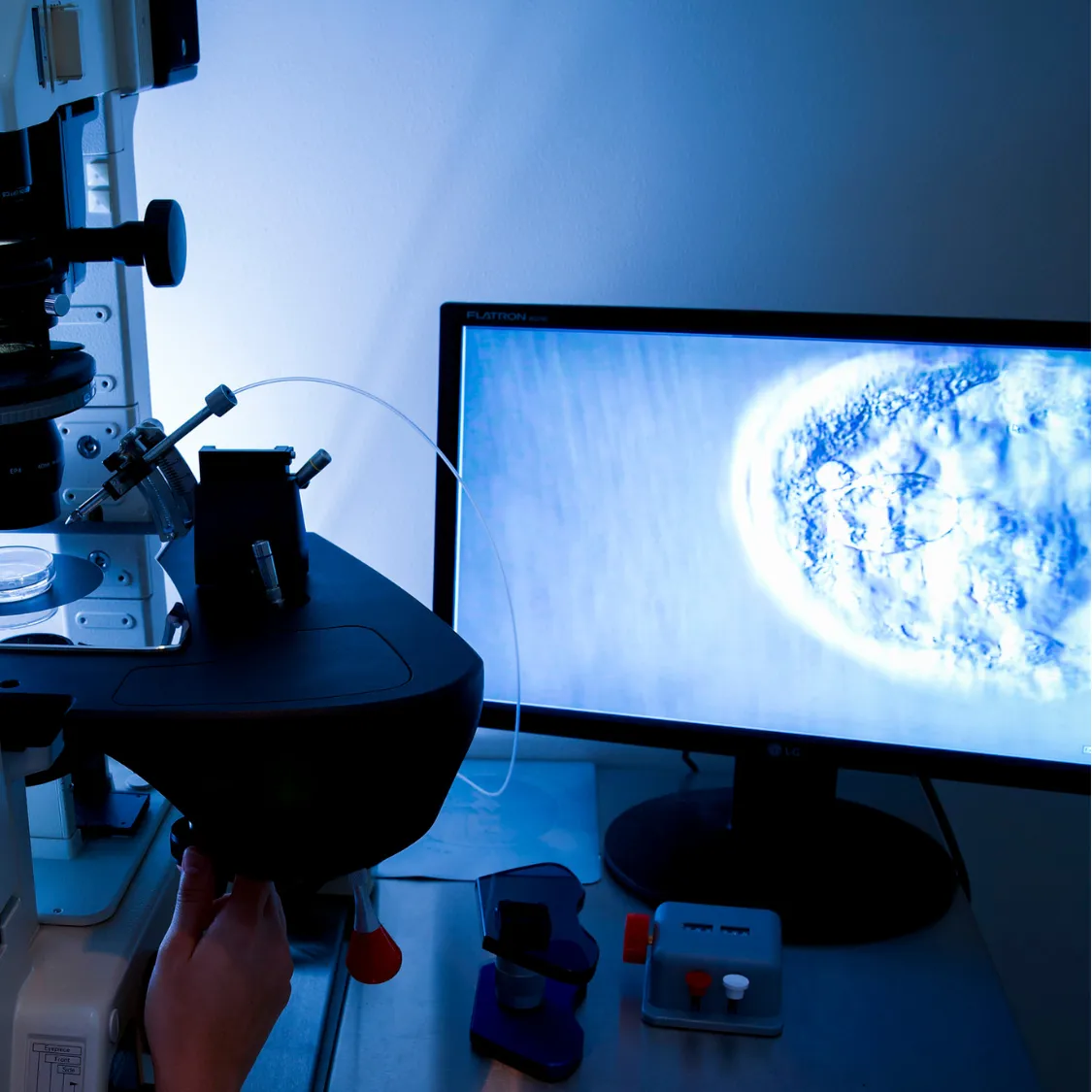 A blastocyst is a human embryo that is 5 to 6 days old and is capable of attaching to the womb. Once fertilization takes place in the lab, the embryo is allowed to grow & culture under optimal conditions for 5 days to make it stronger to latch to the uterine wall. Once the embryo grows for these 5 or 6 days, it is known as a blastocyst. This blastocyst is then transferred to the womb and a pregnancy test is performed after 10 to 14 days. Joyce IVF performs the best blastocyst transfer along with flawless IVF treatment for our patients. You are just one call away from your dream of parenthood with us!
How is Blastocyst Transfer different from Regular IVF or Embryo Transfer?
In regular IVF procedures, the embryo is transferred after 2 to 3 days of formation. As the embryo is in the early stage of development and its chances of failure are high, about 4 embryos are implanted in the uterus.
Sometimes all of them get implanted and sometimes, none of them does. So the chances of multiple pregnancies like twins, triplets and quadruplets are higher in embryo transfer.
On the other hand, in blastocyst transfer, the chances of success are high. So only one or two healthy blastocysts are transferred. The risk of multiple pregnancies decreases many folds and the success rate is quite high as well.
Benefits of Blastocyst Transfer
No Risk of multiple pregnancies like triplets or quadruplets as only one or two healthy embryos are transferred.
High chances of a successful pregnancy as the embryo in the blastocyst stage is more likely to get attached to the womb.
Fewer chances of any genetic disorder as the blastocyst are in the stage of genomic activation where its genes are active, and it is continuously growing.
Couples who had failed IVF attempts in the past with embryo transfer can have success with blastocyst implantation as well.
Frozen Blastocyst Transfer
The frozen blastocyst transfer procedure is performed exactly like standard blastocyst transfer except for the thawing stage.
Those couples who don't want to get pregnant in the present, freeze their embryo to be implanted later in life.
Once they are ready for it, the embryo is taken out and thawed. After that, it is transferred to the lady's uterus, resulting in a successful pregnancy.
What to Do After Blastocyst Transfer?
Taking rest, not being stressed and going for a light short walk are recommended till 24 hours after blastocyst transfer.
Feeling anxious is normal but try to keep yourself peaceful and be patient till the pregnancy test is advised.
Some bleeding or spotting after 2-3 days of transfer is normal, please don't panic. When in doubt, always call the clinic to solve your queries
Blastocyst Transfer Success Rates
The success rates of blastocyst transfer are more than 50% as the embryo in its blastocyst stage is much stronger and ready to get implanted. The process of blastocyst transfer is more natural. In the case of natural pregnancy, the embryo reaches the uterus on the 6th day of fertilization which is why blastocyst transfer is the best way to mimic natural pregnancy, that too with higher success rates. For the best IVF treatment in Delhi with blastocyst transfer, visit Joyce IVF Centre today.
Our first consultation with Mr. Bachan Singh was an eye-opener. He patiently listened to our concerns, fears, and expectations, giving us personalized attention and care. The doctor took the time to explain the entire IVF process in detail, outlining the various treatment options tailored to our specific needs. We felt empowered and well-informed, knowing that the decisions made were based on thorough assessments and expertise. Thank You so much Joyce and the Team.
Krishan Dhankhar
2023-07-19
1st time success,we are happy. Success rate is awesome Staff is very hardworking Tnks u joyce IVF team
Superb and mind blowing setup of everything there even All Doctors and other medical staff everyone is supportive 🙌so you guys can visit freely if you want a genuine Treatment of IVF ✅❤️
The facility itself is also top-notch. It's clean, modern, and equipped with the latest technology and equipment. We always felt comfortable and at ease during our visits, which is so important when undergoing such a stressful and emotional process thanku JOyce IVF
Overall, I cannot recommend the Joyce IVF Centre highly enough. If you're struggling with infertility and looking for a compassionate and effective fertility clinic, look no further than the Joyce IVF Centre. They truly are the best of the best.
You Still Have a Question?
Leave your mobile phone number and we will call you back